Salted Mint & Thermapen: Simple Roast Leg of Lamb with Garlic and Rosemary
Today we have the wonderful Debs from Salted Mint with us, she has been kind enough to share this delicious recipe for a roast leg of lamb with garlic and rosemary. This recipe may have been developed with Easter in mind but we think it would be perfect for any Sunday lunch! Over to Debs…
This tender and juicy roast leg of lamb is served blushing pink and stuffed with garlicky wilted spinach. This Easter lamb platter is ultra simple to pull together and serving this on a platter at the table has huge WOW! Factor.
There are few things that make me think of Easter more than lamb. And I get it. The idea of putting together a roast dinner for a special occasion can be really intimidating. But it can be simple to put together and really fun to make. I'm gonna walk you through step by step what needs to happen and when, to get this epic roast on the table.
I've always loved roast lamb. But there are really only 2 ways to serve it. Slow roasted, so it falls off the bone, or blushing pink and extra juicy. Blushing pink lamb = temperature probe/meat thermometer territory. This lamb is blushing pink. This means that it's a quick and simple roast to put together. So grab a temperature probe and let's get cooking! Bet you never thought that quick, simple and roast could all be used in the same sentence?!
HOW TO ROAST LEG OF LAMB STEP BY STEP
Start with the stuffing of the lamb. It's tempting to want to do the lamb first, but that' almost the last step of the whole process. Start by infusing the oil in the pan with some garlic. I used 2 cloves, but you can increase or decrease depending on how much you like garlic. When the garlic is golden, toss in some chopped herbs (I used thyme and rosemary) and wilt the spinach. Set this aside to cool. We want it to be room temperature before we stuff the lamb. You may think that this doesn't look like a lot of stuffing. And you'd be right. But it's not like turkey stuffing. With this, you just want a subtle pinwheel of spinach running through the lamb, not for it to be bursting at the seams.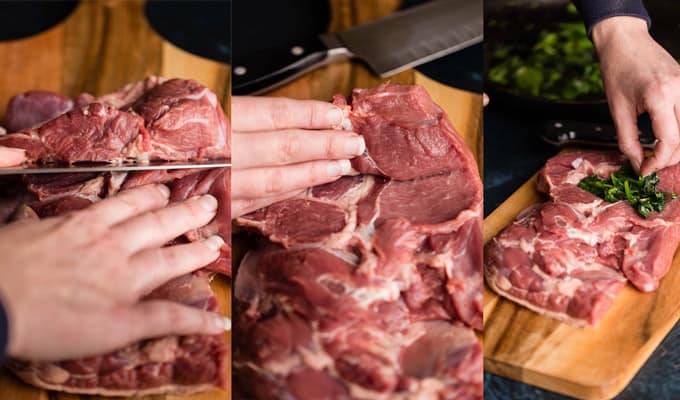 Gently slice the lamb through the middle like a book. Spread the spinach over the inside of the lamb in a thin even layer. Then, slow and stead, roll the lamb up into a log and tie with kitchen twine or butchers string. Tuck rosemary under the twine before roasting. To roast the lamb and really boost the flavour factor, the key is to lay the lamb on a bed of thinly sliced onions. It may look like a small mountain of onion, but once they start roasting, they give up the water and shrink down. Seeing as an onion is about 90% water, more is better.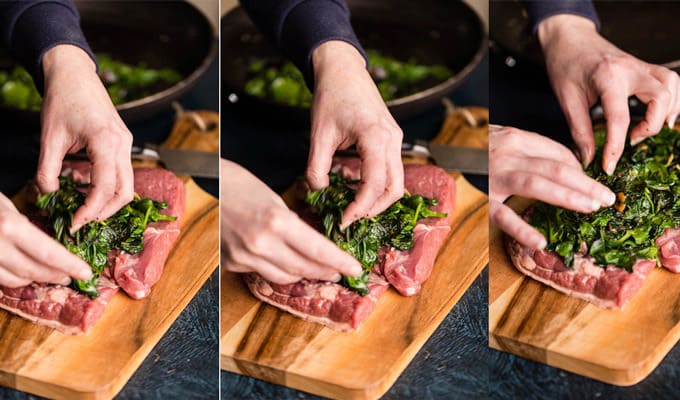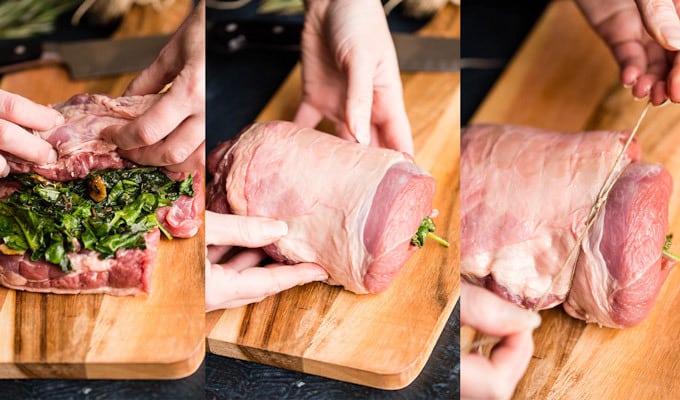 Roast that lamb like you would roast a chicken. In other words, 30 minutes per pound plus another 30 minutes at the end. But like I said, this is NOT something you want to leave to a timer. Nope. This is a job for a meat thermometer. If you're going to put all this effort into making a roast leg of lamb, this is not something you want to leave to chance. I use the Thermapen 4 thermometers because, they're the fastest reading probe on the market.
Not only that, but in my 10 years of working in Michelin star kitchens, Thermapen is all we ever used. That's right. At every restaurant (6!!!) Thermapen is what we used. Always.
Instant read, and with a display that rotates 360. As a lefty, that means that I'm not trying to look at my temperature upside down!!! That alone is a huge win!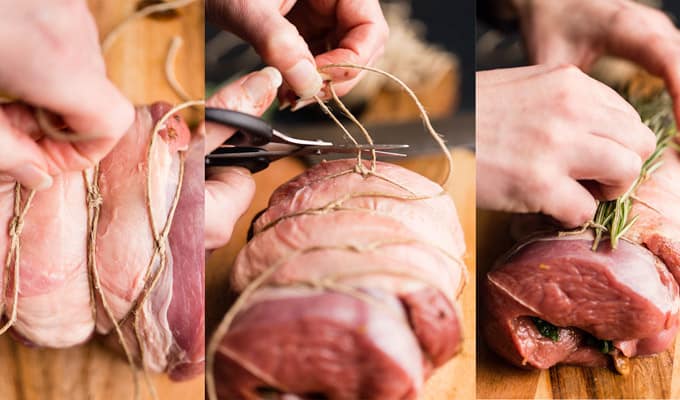 ROAST LEG OF LAMB SIDE DISHES STEP BY STEP
Once you're roasting that lamb, it's time to get the carrots, cabbage and potatoes done. Don't worry. We're still on easy street over here. You need to cut the potatoes into quarters and boil until they're almost cooked. Toss the carrots with some olive oil and salt and pepper. And thyme leaves. Lots of thyme leaves.
 Okay. Now remember how you wilted that spinach for our stuffing? We're giving some cabbage the exact same treatment. The amazing news is that since the cabbage isn't steamed or boiled it retains all it's nutrients. Hey, we need to counteract all that Easter chocolate somehow, right?!
When the lamb gets to 60°C for medium, you'll want to take it out and rest it. If you'd like your lamb done more, then you can consult this handy temperature guide and take out your lamb when it's cooked to your liking. Cover it with some foil and leave it to rest for at least 15 minutes before carving.
The Yorkshire puddings are optional, but they're so simple it would be crazy to not do them!
When people think of a roast dinner, they think of being tied to the kitchen for hours on end with mountains of dishes to do at the end. But it really doesn't have to be that way. Some simple planning, and some flavour helpers, like lots of fresh herbs and garlic, are all you need. Make this roast leg of lamb for Easter, and I promise you will come back to it again and again.
1

 

kg

 

2 lb boneless leg of lamb, butterflied (room temperature) (see notes)

2

 

cups

 

spinach

 

packed

2

 

cloves

 

garlic

 

thinly sliced

zest of 1 lemon

3

 

sprig of rosemary

 

1 chopped, 2 whole

sprig of thyme

 

leaves picked

3

 

onions

 

thinly sliced

2

 

Tablespoons

 olive oil
FOR THE CARROTS
1

 

bunch carrots, 

washed and tops trimmed (see notes)

1

 

Tablespoon

 olive oil

1

 

Tablespoon

 

honey

1

 

sprig thyme

 

leaves picked
FOR THE POTATOES
2

 

cups

 

baby new potatoes

 

about 12 cut into quarters

3

 

Tablespoons

 olive oil

1

 

sprig rosemary

chopped
FOR THE CABBAGE
1

 

spring cabbage

 

sliced

2

 

cloves

 

garlic

 

thinly sliced

zest of 1 lemon
FOR THE YORKSHIRE PUDDINGS
100

 

ml

 

milk

100

 

g

 

plain flour

2

 

eggs

1

 

Tablespoon

 

chopped thyme

1/4

 

cup

 

oil

 

divided
INSTRUCTIONS
Heat the olive oil in a medium skillet over a medium heat. Add the garlic slices and cook until slightly golden. Add the herbs and the spinach and cook until just starting to wilt. Add the lemon zest and mix well. Set aside to cool down.

Butterfly the leg of lamb and season with salt and pepper. Spread the spinach evenly over the lamb and tie with butcher's twine. Tuck 2 rosemary springs into the twine.

In a roasting tray spread the sliced onions in an even layer. Season and place the lamb on top. Place in the preheated oven calculating cooking time based on 30 minutes per pound plus 30 minutes. But make sure that you have a thermometer to ensure perfect results.

Once the lamb is cooked leave to rest for at least 15 minutes before carving.

Save the pan with the onions this is for the gravy.
FOR THE CARROTS
Trim the tops of the carrots and make sure that they're clean. It's not necessary to bother peeling them. Just give them a good wash. Toss with the olive oil and drizzle with the honey. Roast for about 30 minutes or until they are tender and golden
FOR THE POTATOES
Cut the potatoes into quarters and parboil until they are mostly tender. Toss the potatoes with 2 tablespoons of olive oil and some sea salt and pepper. Roast in the oven with the carrots until they are tender and soft on the inside and golden and crispy on the outside. (see notes)
FOR THE CABBAGE
Use the skillet that you wilted the spinach in. Heat it over a medium heat and add some olive oil and garlic. Sauté the cabbage and add the lemon zest. Cook until the cabbage is wilted and some edges are starting to colour. Set aside and keep hot.
FOR THE YORKSHIRE PUDDINGS.
Whisk all the ingredients together except the oil. Set aside.

Divide the oil between the cups of a 24 cup mini muffin tin. Heat the oil for about 10 minutes.

Evenly pour the batter between all the cups and place back in the oven for about 20 minutes. DO NOT open the door during the first 10 minutes of cooking time, otherwise the puddings may collapse. (see notes)
RECIPE NOTES
Note 1 – If you're aren't comfortable butterflying the leg of lamb, you can ask your butcher to do this for you.
Note 2 – If you're using young carrots with the tops still on, there's no need to peel them. Simply cut the tops off and wash the carrots well.
Note 3 – The potatoes can be quartered and par boiled the day before your dinner and stored in an airtight container in the fridge until you're ready to roast them.
Note 4 – The Yorkshire pudding batter can be made the day before and left in the fridge to rest. For a stress free dinner, cook the puddings first and give them a quick reheat just before serving.
---
---