Edd Kimber's Italian Meringue Buttercream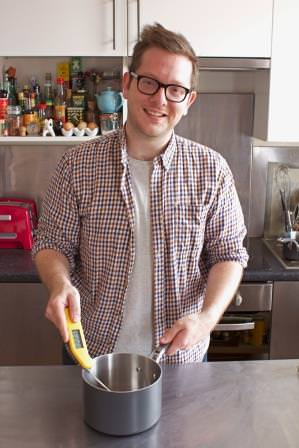 Edd Kimber, Great British Bake-Off 2010 winner says he couldn't do without his SuperFast Thermapen® because he relies on the simple-to-use digital food thermometer to give an accurate and near instant reading.
Here he explains how it's essential in making the perfect Italian Meringue Buttercream:
Edd explains, "This is a proper buttercream, made with egg, boiling sugar syrup and butter. You'll find it's beautifully smooth, not too sweet and perfect for frosting cakes or cupcakes. However, to get it right you must have the temperatures spot on."
Edd's Italian Meringue Buttercream
You will need:
5 large egg whites
250g caster sugar
150ml water
450g unsalted butter, diced at room temperature
A SuperFast Thermapen
Cook the sugar and water in a saucepan over a medium heat.
When your Thermapen shows the syrup has reached 115ºC, use an electric mixer to whisk the egg whites in a heatproof bowl.
Once the sugar syrup has got to 118ºC pour it into the eggs, whisking constantly.
Continue whisking until you have a stiff, cool meringue. (If the meringue is warm the butter will melt at the next stage, making a greasy buttercream.)
Continue whisking and begin adding the butter a few pieces at a time.
As you add the final few pieces you'll find the texture will change into a silky smooth buttercream. This can be flavoured with jam, lemon curd, chocolate or anything you fancy.
The British-made SuperFast Thermapen is a kitchen essential for all food enthusiasts; perfect for baking, checking meat dishes, jamming, working with sugar or tempering chocolate.
---
---