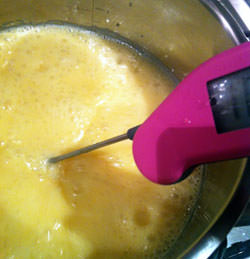 Popular online baking blog, Baking Bar recently made some great comments regarding the Thermapen® on their Vanilla Fudge recipe page. They had this to say:
"The one essential piece of equipment is a candy thermometer or another cooking thermometer which can be used for candy. These come in thousands of varieties all with apparent specific purposes. After trying many different types and brands we have found our favourite…the Thermapen. It isn't at the budget end of cooking thermometers but if you take a fancy to cooking with sugar then this is an absolutely fantastic investment. In fact we have found ourselves using our Thermapen during the cooking of most of our meals too! From chicken to fish it has hundreds of purposes. The technology used in the Thermapen means that it gives you a very accurate temperature reading very very quickly. And we absolutely love the craftsmanship and thought which has went into its design, simply flick open the probe and the device turns on, close the probe and it turns off, simples! You can choose from a multitude of colours and patterns meaning that your cooking thermometer can be as great a part of your kitchen as any other kitchen appliance, big or small."
You can find the full recipe on our Baking Recipes pages, or by visiting Baking Bar where you will find lots of other great recipes and tips.
Please follow and like us: